Minor Wreck? We Got The Auto Parts!
Save money with used auto parts after a winter collision.
---
By Ben Silver - January 18, 2017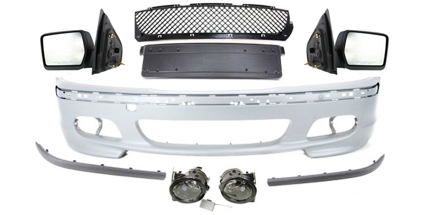 It's winter in Colorado and we've had a number of snowy days and hairy commutes.  Certainly we've all seen a car accident or two, and possibly were even involved in one.  Many of these accidents are minor and may not warrant an insurance claim.  If the damage isn't too bad, used auto parts and a little elbow grease might be just what the doctor ordered to get your car back on the road.
To Claim or Not to Claim
Obviously, this is a question for you as individual.  Does the damage to the vehicle cost more than the deductible?  Do you want to make a claim and incur higher rates next year? Consider your options before making a decision a quick call to Central Auto Parts to find out the cost of the used parts, can help give you a barometer for taking some "DIY" action.
Evaluate the Repair
You should do a little research online to find out what the repair is going to take.  Replacing a headlight or fender can be far different from one vehicle to the next.  Getting an idea of the complexity of the repair based on your specific vehicle should be your first step.  If changing out the damaged part for a quality used part seems to difficult for your skill level, probably better to not pursue it unless you can get help from a skilled friend.  YouTube has amazing videos to guide you through a lot of the repairs you may encounter.  Dealerships may also have resources and documents to guide you.
Used Parts Availability
We have tons (literally) of parts available at our 6.5 acre facility.  Most off the collision parts that you may need for a "DIY" repair are as follows:
Car Doors
Front Fenders
Headlights
Bumpers
Grills
Hoods
Radiator Supports
Radiators
Condensors
Wheels
Suspension Parts
Obviously, there are many used auto parts that you may seek after a collision.  Some may not be on this list, so just give us a call and one of our courteous and professional sales people would be happy to assist you.

Click Here to Search Quality Used Auto Parts Now!

Ben Silver is the CEO of Central Auto Parts and acting President of the Colorado Automotive Recyclers.  When he's not "auto blogging" or pushing Central Auto Parts to new heights, he's chasing his young daughter around the house or tying flies for the next great fishing adventure.
Go Back