Salvage Yards in Fort Collins
A Guide to Finding Affordable and Sustainable Used Auto Parts
---
Patrick Ala-An - February 3, 2023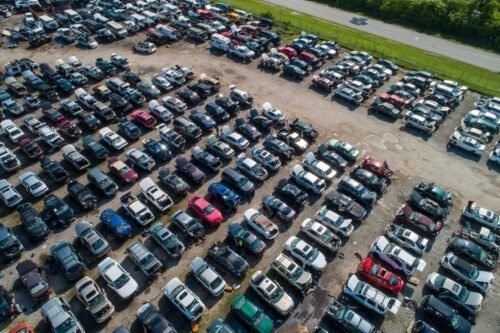 When it comes to car repairs, many of us are faced with the dilemma of paying high costs for brand-new auto parts or settling for subpar quality from unreliable sources. But what if we told you there was a third option? A solution that not only saves you money but also helps the environment? Enter the salvage yards in Fort Collins!
Salvage yards, also known as junkyards or auto recyclers, play a vital role in the automotive industry by recycling and repurposing old, damaged, or unwanted vehicles. Instead of letting these vehicles sit and rust in landfills, salvage yards extract usable auto parts and sell them to those in need, all while reducing waste and pollution.  Salvage yards are the best solution for reuse of used auto parts!
So, what can you expect to find at a salvage yard in Fort Collins? The answer is simple: everything! These yards have everything from engines and transmissions to body parts and electrical components. And the best part? The prices are much lower than buying brand-new parts, making it a cost-effective solution for those looking to fix their vehicles.
But before you rush out and start shopping, there are a few things you need to keep in mind to make sure you get the best possible experience.
Some Things to Consider...
Quality Checks on Used Auto Parts
The first and foremost consideration is the condition of the used auto parts you're interested in. Some salvage yards may offer a warranty or guarantee, but it's always best to inspect the used auto part in person to ensure it's in good working condition. If the used auto part is too large or heavy to bring with you, ask the salvage yard to provide additional photos or videos.
Compatibility
The next step is ensuring the used auto part is compatible with your vehicle. Fortunately, professional salvage yards will have the tools and expertise to make sure you get the correct used auto part when you order.  You can also do this by checking your vehicle's make, model, and year or by consulting with a dealership. Remember that while a part may look similar, it may not necessarily fit your vehicle.
Price Comparison
One of the most significant advantages of buying from a salvage yard is the cost savings. At Central Auto Parts, we'll give you a number of options so you can get the best value for your situation.  We want you to get the correct used auto part and pay the right price for it! Feel free to negotiate if you feel the price is too high, our qualified sales people are happy to work with you when we can!
Environmental Impact of Salvage Yards
Salvage yards play an essential role in reducing waste and pollution by recycling old vehicles and reselling the quality used auto parts. Ask about the salvage yards recycling and disposal practices or research the yard's reputation online to ensure you make a responsible choice.
Used Auto Parts with a Smile
Another great thing about the salvage yards in Fort Collins is the customer service. The staff is knowledgeable and passionate about their work and happy to help you find the used auto part you're looking for.
Final Thoughts
Central Auto Parts in Fort Collins provide a valuable service by recycling old and damaged vehicles, reducing waste, and offering cost-effective used auto parts for car owners. By making an informed decision and taking the necessary precautions, purchasing used auto parts from a salvage yard can be a smart choice for those looking to maintain their vehicles while also helping to protect the environment.
Go Back